Welcome to BigLousBouncies.com
NOTE: To view Pricing and availability, 1. Click on Reserve Online Now,
2. Pick your date
3. Enter your start time and then your end time (6-8 hours between times)
4. Units that are available will show up, Place equipment in your cart and enter zip code
5. Recieve your total price and checkout
6. We only rent by the day, a Full day is considered 6-8 hours, Our latest scheduled pick up is 7pm
if you want to keep it later choose our overnight option. Set next day time for 8-830am.
7. We do not combine discounts, for double discounts.

We do not service Macdill AFB or Rowlette, Nuccio park at this time.
NOTE:
We do offer Customer Pick up for Bounce houses only. When you pick up its the same price for the whole weekend instead of just a day. Pick up Friday between 1-5pm ONLY, drop off Monday Between 9- 12 noon without incurring addtl charges. Must have a full size SUV or truck we will not load into a compact car.

Big Lou's Bouncies is a family owned and operated bounce house rental company. We are located in Brandon, Florida. We serve all of the Tampa Bay Area. Since 2006 Our Customers have enjoyed Clean, On-time Bounce House Rentals, Water Slides Rental and Party Rentals. While it's a lot of fun doing what we do, we take your safety and health seriously. Our Bounce House Rentals are always inspected, cleaned, sanitized and staked down properly before and after every event. When you rent a bounce house from us you will always get a clean and insured unit. you can also expect great service. We have Bounce House Rental for every special occasion or event. We also offer Tents, Tables, chairs, concessions and more. We take personal pride in being able to serve our customers at the highest standard. We work hard to deliver clean bounce house rentals and water slides on-time for you to enjoy! Your family and friends will enjoy our Party Rentals, Bounce Houses, or Water slides for their special event because we carry only the best and most attractive units. Be sure to check out our Interactive games.

Tampa's Best Events
The best compliment you can give us, is to recommend us to a friend... and we thank you for allowing us to serve you! We are pleased to announce that we have a second location North of Us, If you are in the Wesley Chapel, Zephyrhills or Land O Lakes area Go to our Land o Lakes Bounce House Rentals company. Kangaroo Bouncers is our new endeavor, check it out and call if you have any questions. We offer services for Company Picnics, Corporate Events and Fundraisers.
Big Lou's has been providing the Tampa area with professional service and the highest quality equipment rentals for years. With that, comes the experience to know exactly what it takes to make your event a success. Suggestions, ideas, and recommendations that make your event planning fast and easy. Let Big Lou's do the heavy lifting and you can relax and enjoy the day. One call get's you in touch with one of our event professionals who will work up a plan the meets your fun requirements and budget.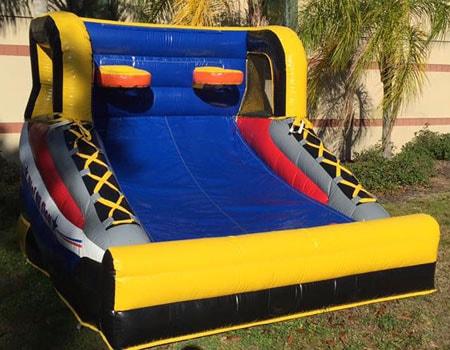 Interactive Fun
As much fun to watch as it is to participate, our interactive attractions can add an excitement level to your event that attendees will talk about long after it's over. Attractions like our dual lane obstacle course is perfect for schools and church group, and large events where maximum throughput is required. Our 28 foot tall rockwall and is the largest rock wall rental in central Florida, and comes with two attendants.
Planning the attraction layout for your event is easy at Big Lou's when you enlist the help of our event planners. We'll make sure you have units that are great for all ages, like our Basketball Shootout. This dual hoop free throw game can have young and old alike, competing to see who makes the most baskets in an alotted time. If your group has fundraising as its goal, then our dunk tank is the classic solution. Just line up the school principle, your local mayor or celebrity to sit in the hot seat and watch your guest line up for a chance to give them the big splash.