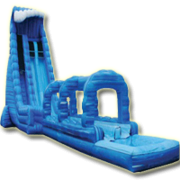 28ft Blue Crush Waterslide
$499.00
Dimensions: 32 x 90x 40
Outlets: 3
Monitors: 2
28 ft Blue Crush Water Slide Rental
28ft Blue Crush Water Slide Rental is just in time for water slide season. This slide is almost 3 stories tall. A true double lane slide into a pool of refreshing water. This water slide rental is HUGE, 28 feet tall and 70 feet long. PLEASE measure your space before you book this slide. We need at least a 4ft clearance to get thru any gate. This slide is PERFECT for teens, adults and even daring younger kids. This water slide is perfect for Graduations, block parties and events.

This slide requires (2) separate outlets on different circuits, the slide takes 2 blowers. We will only run 100ft of cord from each blower, we will not attach to or run more cord than 100 ft, as it becomes a fire hazard.

NOTE: we will not set up the water slide on concrete, that is negligent and we are properly licensed and insured. Any company willing to set up anything wet on concrete, is negligent and will void their insurance policy coverage, if they are properly insured.
ALSO, know that you will need good water pressure, the slide is 3 stories in height and low water pressure will not pump the water that high to adequately provide spray at the top. If you have well water ensure your water pressure is very strong and also please know that if your water has iron deposits ( stains Yellow) we do charge a cleaning fee after return. Iron deposits from well water place stains all over the slide. Please make sure your well water is treated for iron deposits the cleaning fee is $150.00.

WE CAN NOT SET THIS SLIDE ON CONCRETE OR PAYMENT…MUST BE SET UP IN GRASS.
YOU WILL NEED STRONG WATER PRESSURE TO PUMP WATER TO TOP OF SLIDE.